(c) FOURTH EDITION, Copyright 1999, 2003 - Vanadis Crawford, Chris Unangst, and First in Flight Cat Club

Welcome to the world of TICA cat shows!

You have a beautiful cat and you would like to show her, but you don't know how. Well, you've come to the right place! In this short article you'll learn:
How a TICA cat show works
What you need to do to enter a show
How to prepare your cat for the show
What you need to bring to the show
What to do after the show
I'm confused, what's going on here?
It's always best to attend a cat show as a spectator before deciding to enter your cat. It will give you a feel for how shows work and will give you a chance to meet with exhibitors who share your passion about cats.
There are several organizations that sponsor and license cat shows. What is described here is what you will see at a show licensed by The International Cat Association or TICA. Other organizations follow different rules and procedures.
The show hall
Most show halls are made up of three areas: benching, judging rings, and vendors.
The benching area is made up of long rows of cages. The benching area is where the cats are groomed and wait until their number is called to a judging ring. Each cage is covered by the exhibitor with cage curtains on the bottom, top, and three sides. The cage curtains give the cats a comfy place to rest between judging while shielding the cat from other cats benched around them or from coming in contact with any germs carried by those cats.
Some seasoned exhibitors have very elaborate cage curtains, or they may totally replace the wire cage with a wooden, framed fabric, lucite or domed show cage that they own.
For more information on cage curtains and show cages, click here.
The judging rings are where the "action" happens. This is where the judges evaluate each cat in the show. There may be any number of judging rings at a show, however most shows have either 5 or 6 judging rings.
Vendors are businesses who attend the shows to sell their wares. Items for sale can include almost anything from jewelry and clothing to cat food, litter, and toys. The vendors vary from show to show. Many shows have a general vendor who carries cat grooming and care supplies. The general vendor can be very helpful if you have forgotten to bring something for the care or comfort of your cat.
Judging rings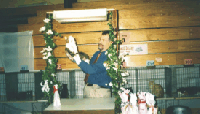 A judging ring is usually made up of an L- or U-shaped arrangement of cages, one or more tables placed in front of these cages, and rows of chairs in front of the table(s) for exhibitors and spectators to sit and watch the judging
Three people normally work in each judging ring: the judge, clerk, and steward.
The judge is an individual who, after a long and rigorous training process, has been thoroughly trained to evaluate the different cat breeds according to a set of written standards and rank the cats in order of how well they represent their individual breed standards.
The clerk is responsible for the accuracy of all the records of the ring. The clerk keeps a marked catalog of the results of the ring and validates what the judge writes in his records is how the the judge presented his evaluation to the audience.
Note: A smooth running ring is the clerk's responsibility. Discuss with the clerk any any concerns you have with the ring or if you have a piece of information that needs to be passed to the judge. The clerk handles all communications between the exhibitors and the judge and is responsible to rectify any problems with the ring.
The steward has the most important, and usual most unsung, job. Usually a child, the steward sprays each judging cage with disinfectant and wipes down the cage in between cats. This is very important since germs can spread from cat to cat causing disease.
Judging procedure
TICA recognizes cats for competition in 8 classes:
Kittens
Kittens of breeds and colors recognized by TICA for championship status. Kittens must be between 4 months and 7 months old on the day of the show. Kittens may be whole or spayed/neutered.
Championship
Adult cats of breeds and colors recognized by TICA for championship status. Cats must be 8 months of age or older on the day of the show. In this class the cats can not be spayed or neutered.
Alters
Adult spayed or neutered cats of breeds and colors recognized by TICA for championship status. Alters must be 8 months of age or older on the day of the show.
Household Pet Kittens
Non-pedigree kittens or pedigree kittens that can not be shown in kitten class for some reason. Household Pet Kittens (HHP Kittens) must be between 4 months and 7 months old on the day of the show. HHP Kittens may be whole or spayed/neutered.
Household Pets
Non-pedigree cats or pedigree cats that can not be shown in an adult class for some reason. Household Pets (HHPs) must be 8 months old or older on the day of the show and must be spayed or neutered

Preliminary
New Breed


This is a special class for the evaluation of new breeds. The intent of the new breed classes is the eventual recognition of these breeds for championship competition. Preliminary New Breed is for those breeds who are at the beginning of this process.
Advanced
New Breed
This is a special class for the evaluation of new breeds. The intent of the new breed classes is the eventual recognition of these breeds for championship competition. Advanced New Breed is for those breeds who have demonstrated merit to advance in the program.
New Traits
This class is for the evaluation of new traits, such as new colors or hair lengths, of existing, recognized breeds where these traits are not currently recognized for championship competition. The intent of New Traits class is the eventual recognition of these traits for championship competition.
Each class is judged separately. For example, alters are not judged against kittens.
A list of the breeds recognized for championship or preliminary/advanced new breed status can be found at http://www.tica.org/combstdrul2001a.pdf.
TICA's breed standards, can be found at http://www.tica.org/standards/standards.htm.
Each cat in the show is assigned an entry number. This number can be found in the show catalog which is provided to each exhibitor. TICA assigns ranges of numbers for each of the classes being shown. The ranges of numbers makes it easier to listen for your number when it is called from the rings.
| | |
| --- | --- |
| Longhair Kittens | 1-50 |
| Shorthair Kittens | 51-100 |
| Longhair Championship | 101-200 |
| Shorthair Championship | 201-300 |
| Longhair Alters | 301-350 |
| Shorthair Alters | 351-400 |
| Longhair Household Pets (Kittens & Adults) | 401-450 |
| Shorthair Household Pets (Kittens & Adults) | 451-500 |
| Preliminary New Breed | 501-550 |
| Advanced New Breed | 551-600 |
| New Traits | 601-650 |
Note: In the rare instance where there are more cats than in the range of numbers, the next class starts with the first available number. For example, If there are 55 longhair kittens, then those kittens are numbers 1-55. The shorthair kittens will start with 56.
If a cat is entered in the show after the catalog is printed, it may have a number ending with a letter so that it will fall in sequence with other cats of its breed and color. For example, if kittens 51 and 52 are brown classic tabby American Shorthairs and 53 is a brown spotted Bengal, a late entry brown classic tabby American Shorthair may be 52A.
The cats are called to each judging ring by their entry number. The only information provided to the judge about the cat is its:
Note: In some associations the cat's title (For example, Grand Champion) is also known by the judge. In TICA, all cats are considered equal in the judging ring. The judge has no way of knowing if the cat he or she is judging is at its first show, or if it has been considered by other judges to be one of the best of its breed.
The judge handles each cat placed in the judging ring. The judge takes the cat from the ring cage, places it on the judging table, evaluates the cat against their knowledge of the written standard, returns the cat to the cage and continues on. You will note that the judge cleans the judging table and his or her hands with a disinfectant before handling the next cat. Just like the steward's job to disinfect the cages, the disinfection of the judging table and judge's hands is vital to the health and well-being of the cats being shown.
Judging is a pyramid of eliminations within the class:
.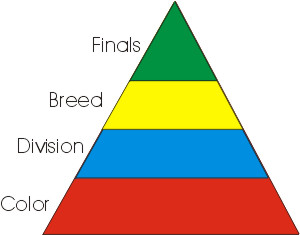 First all cats of the same breed and color are judged against the written standard for that breed. Up to 5 cats are selected as the best-5th representation of their breed - looking only at cats of that color. The judge awards these cats ribbons with colors indicating their placement.
Note: Judges judge the cats against the whole written standard, not just the color. For example, if there are two red Persians, the two red Persians are judged against how they fit the full written Persian standard. The "best of color" does not necessarily mean that that cat has the best red color. Instead, the best of color red Persian best fits the entire written Persian standard including head, structure, coat, etc.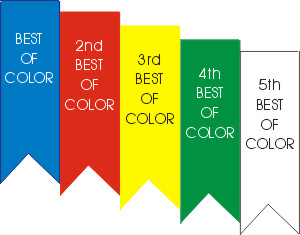 Household pets, and household pet kittens are evaluated against a written standard as well. That standard states that the cat should be in good condition, well groomed, be of the right weight for his or her frame, have clean ears, and trimmed nails. The judge then uses his or her opinion as to the household pets he or she feels are the best.
Unlike cats in all other classes, if a household pet meets the basic requirements of the written standard, it will receive a best of color (or HHP merit) award - even if there is more than one HHP of the same color.
Next, the judge looks at all the cats, within the breed, within the same division. For example, all solid Persians would be judged in the solid division. After judging all the white Persians, blue Persians, black Persians and red Persians and selecting the top Persians of their respective colors, the judge will now look at the the solid Persians and select the top-3 of the solid division. These are indicated by the judge with colored ribbons.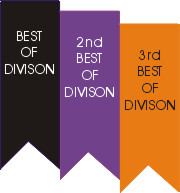 Household pet adults are also selected for division awards. For example, all shorthair tabby household pets will compete for best, second, and third of the tabby division.
Cats in preliminary/advanced new breed, new traits, and household pet kittens are not selected for division awards.
Next, the judge will look at his best cats of each division and select the top-3 representatives of the breed. In our example with the Persians, now the best solid Persians would be compared against the best Tabby, Silver, Tortie, and Particolor (any color and white) Persians in the show.
The judge is not required to name his best of breeds but he must write down his top-3 best of breed in his judge's book. If he does tell the audience how he placed the cats within breed, he may name them, without hanging anything on the cages, he may hang ribbons of the following, or similar, color, or he may have some other indication of best of breed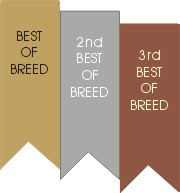 Household pets and household pet kittens are not awarded breed placements.
Cats exhibiting in preliminary/advanced new breed or new trait are awarded breed placements. The judge will also award one merit rosette to the overall best example exhibiting in each of these three classes.
The very end of this process is the finals. During the finals the judge names the cats he feels are the very best representations of their breeds in the class. The number of cats the judge may final depends on the number of cats in competition for the class:
| | |
| --- | --- |
| Best - 5th Best | 20 or less in competition |
| Best - 6th Best | 21 in competition |
| Best - 7th Best | 22 in competition |
| Best - 8th Best | 23 in competition |
| Best - 9th Best | 24 in competition |
| Best - 10th Best | 25 or more in competition |
Note: The only exception to this rule is Household Pet Kittens. A maximum of 10 places are awarded regardless of the number of kittens in competition. So, if only 7 Household Pet Kittens are competing, the judge will award 7 placements. With the exception of the one merit award per class, finals are not awarded in preliminary/advanced new breed or new traits classes.
Finals can be allbreed or specialty. Allbreed finals are the cats the judge feels are the very best of both the longhair and shorthair cats for that class. Specialty finals only take the longhairs or shorthairs of the class into consideration. For example, an allbreed kitten final may have both longhair and shorthair kittens in it. A shorthair specialty kitten final would only have shorthair kittens.
Each judge judges every cat in the show. Judging by a single judge normally takes place on one day. However, a split format show has the judge judging half the cats one day and half the second day. Split format shows are usually done when the show is very large and there are more cats entered than a judge can reasonably expect to judge in a single day.
Best in show
Some shows present a best of the best or best in show presentation at the conclusion of the weekend's judging. This is not required by TICA, but some shows like to recognize the cats with the highest finals over the course of the weekend. Some clubs may only recognize the best in each class, others recognize top-3 and there are a few that recognize top-5.
In addition, clubs may offer special cumulative awards for the highest scoring of a particular breed, color of cat, or other special awards. Check your catalog for information on special awards that may be presented.
Note: Best of the best and other special awards are not included in international or regional awards scoring, nor are they scored for titles. These awards are only used to honor the best cats within the show.
In the spirit of good sportsmanship, it is a good idea to stay, applaud, and cheer for the cats presented in the best of the best. These cats and their owners have a significant accomplishment to be proud of. Help them celebrate as you would like others to help you celebrate in similar circumstances.
OK ... How do I enter?
Are you still with me? Does this sound like something you would like to do? Great! We're looking forward to seeing you at an upcoming show!
The first thing you need to do is decide what show you want to enter. A list of all TICA shows can be found at http://www.flash.net/~debreed/calendar.htm.
When you find a show you would like to enter, contact the entry clerk or show contact person listed and request a flyer be sent to you. In courtesy for the entry clerk, if you get an answering machine, make sure to clearly state your name, phone number, mailing address, and the name of the show you are interested in entering. Many entry clerks work with multiple shows, so saying, "Send me a show flyer" without the show name will result in a collect call back to you!
Try to enter as early as you can. Most shows close 1-2 weeks before the actual show date, but others close months before the show.
When you receive your show flyer read it carefully. The flyer contains a lot of information about the entry cutoff dates, judges, hotel accomodations, show hours, and other activities related to the show. The flyer will also contain a financial summary sheet and entry forms. If you need more entry forms than were provided by the club, feel free to make copies. You will need to send the financial summary, your entry forms (1 per cat entered), and a check for the cost of your entries to the entry clerk's address listed on the flyer.
Some shows offer online entry services and a few can accept credit cards. Online flyers are usually listed in the TICA show listing (http://www.flash.net/~debreed/calendar.htm). If the show accepts credit card payment it will be listed on the flyer.
In addition to your entry, the club may offer other services at a fee. These services can include:
| | |
| --- | --- |
| Advertising | Cost to place an ad in the show catalog. Many breeders have business cards and may want a copy of their business card placed in the official show catalog. |
| Grooming Space | A space the size of a double cage with no cage on it. This gives you a flat work surface to groom your cat. In lieu of a grooming space, some people groom their cats on their carriers, on specially designed grooming tables that clip to the front of the cages, or even on a chair. |
| End of Row | A guarantee that your cage will be benched at the end of a row of cages, rather than somewhere in the middle. Some people find this to be more convenient for them. Most shows offer free end of row benching, near the rings, to any exhibitor who is physically handicapped. |
| Sales Cage | A single or double (see notes) cage for the purpose of selling kittens or cats or having a cat in the show hall that isn't entered in the show. |
| Double Cage | The extra half of a double cage (see notes) |
| Catalog (Extra Catalog) | Most clubs offer the show catalog as part of the entry fee for the first cat entered. However, there are a few that sell the catalog separately. To fully enjoy the show, you really need to have a catalog. Clubs that include the catalog as part of the first entry fee may offer extra catalogs at a cost. |
| Marked Catalog | Each show compiles a master catalog. This master catalog is produced by the master clerk. The master catalog contains all the weekend's results from all rings in a single catalog. A few clubs give the option for you to get a copy of the master catalog send to you in the mail a few weeks after the show. |
Notes: Cages, cages, cages ... this is where a lot of new exhibitors get confused. In the USA there are three cage sizes ... 22"x22"x45" (regular), 27"x27"x54" (oversized), and what I'll call California single.
California single cages are used in some parts of the western USA. Each cat entered gets one of these cages. The cages are not as long as regular cages, but are significantly taller and have one door.
Regular and oversized cages have two doors and swinging wire divider to divide them into two smaller single cages (regular: 22"x22"x22", oversized: 27"x27"x27"). Each entry is entitled to ONE SINGLE CAGE (i.e. one half of the full cage.) Most clubs offer you the option to purchase a double cage ... which is the other half of the cage that comes with your entry.
Here's an example of where some folks get confused:
Nancy enters three cats in a show. She want to have 2 full cages for her three cats. Does she buy one double cage, or two?
The answer is one. Each cat entered entitles her to a single cage which is 1/2 of a full double cage. So, three entries gives her one full cage, plus 1/2 of another one. If she wants two full cages all she needs to do is buy one additional double which will give her the three singles for her entries plus the extra 1/2.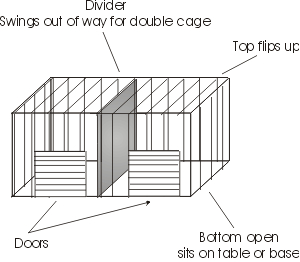 Now that you know who you are going to enter, and what additional services you need, how do you fill out the forms?
Most of the financial summary sheets are pretty self explanatory. Make sure you adhere carefully to cutoff dates for any early bird discounts or you may find that you will be owing money!
Most clubs have a line "Benching" or "Benching request" on their financial summary or entry forms. This gives you an opportunity to say who you would like to be next to in the show hall. If you have a friend who shows, you may want to be with them so they can show you the ropes. If you don't know anyone who shows, you may want to put "New exhibitor - please bench me with someone nice". Most entry clerks will then try to put you with someone who would be willing to mentor a new exhibitor.
Another line that is often confusing is "Agent". If you can't come to the show and someone else is showing your cats for you, list that person as your agent.
Most clubs will honor only your agent or benching request with agent taking precidence. So, if you listed Jane as your benching request and Sue as your agent, you will be benched with Sue and you may or may not be benched with Jane.
The entry forms can be rather overwhelming, but they are pretty straight forward once you know a few pieces of information. There are numerous entry forms being used today, but the following is pretty standard:
However, before we go through the entry form, a plea from all entry clerks:
Please, please, please .....
print your entry forms neatly and fill them out completely!
Here's the reason for the plea. If we can't read it, we can't process your entry. We'll have to try to contact you for clarification or your cat may be entered incorrectly in the show. Incorrect information means your cat may be judged incorrectly, may have to be moved to another class or color, or may be ineligible for titles, regional, or international wins. So, neatness counts! Please print (rather than writing in script) your entry forms as neatly as possible. Many thanks from all the entry clerks!
Now, onto the entry form itself. Most fields are pretty self explanatory: sex, birthdate, owner. Others are a little more confusing. Let's look at these.
Region
This is the TICA region you live in. Information on what states and countries are in which region can be found at: http://www.tica.org/reglist.pdf.
Title

If you are showing a championship cat for the first time, the cat is a Novice. If you are showing an alter for the first time, the cat is a Novice Alter. If you are showing an adult household pet for the first time, the cat is a Senior. Kittens, household pet kittens, and new breed & color entries do not have titles.

Once your cat has been shown at one or more TICA shows, it may be eligible for a higher title. See http://www.tica.org/recwins201.pdf for the requirements for TICA titles.

TICA Registration Number

You can show a cat in any class one time without a TICA registration number (*). After that you will lose any points the cat may accumulate to titles, regional and international wins if you do not register the cat. If you are entering without a registration number, put the word PENDING in the TICA Registration Number line.

(*) - The only exception is Korats. If you are showing a Korat it must be registered with TICA before it can be shown.

Name
Your cat's full registered name. You may call your cat "Fluffy", but she may be registered "Mycat's Lady Fluffilina of Ourcats". You need to include your cat's full name. If your cat is not registered, you should list the full name as she will be registered.
Dam
The full name, including any titles, of your cat's mother. Leave blank for household pet entries.
Sire
The full name, including any titles, of your cat's father. Leave blank for household pet entries.
Breeder
The full name of the breeder as indicated on the registration papers. You may have bought your cat from Sue Breeder, but she may register all her cats as Susan/David Breeder. Leave blank for household pet entries.
Note: If you are showing a kitten, championship cat, or alter for the first time, you may want to work with your cat's breeder to understand how to fill out an entry form. Some of the information you may have been given when buying the cat may have included cat's nicknames and other shortcut information. Also, the breeder may have different cattery names depending on the association. So cattery Fluffy in one association may be Furry in TICA.
Now that I've entered, how do I get ready?
After entering the show, you need to get yourselves and your cat ready to show. The main preparations are:
Making travel and hotel arrangements
Verifying your cat's health records
Double checking your confirmation from the entry clerk
Packing your supplies
Grooming your cat
If you will be staying overnight at a hotel it's important that you make your reservations early. Each cat show has one or more designated hotels. These are hotels that have agreed to allow you to keep your cat in your room. Some hotels may require refundable or non-refundable security deposits. Check your flyer carefully for this information. Also check for any dates when your reservations must be made. Show management will negotiate blocks of rooms with the hotels. These blocks will usually be released after a certain date. Make sure you make your reservations before that date or a room may not be available for you!
Once your travel arrangements are complete, you need to get ready for the show itself. The first thing you need to do is make sure that your cat is current with all its shots. All cats must have current feline distemper vaccines and rabies vaccines and be in good health at the time of the show. Please bring your cat's rabies certificate with you to the show in case there are any questions.
A week or two after you enter the show you will receive a confirmation from the entry clerk. This confirmation will include a listing of how your cat will be listed in the catalog. Double check this information and contact the entry clerk immediately if there are any errors. If the information on the confirmation is wrong, your entry in the catalog and official records of the show will be wrong. It's much easier to fix the problem before the official show records are printed, rather than fixing them at the show.
Now that all your paperwork is done, it's time to pack. Remember, you're now packing not only for yourself, but for your cat as well. You know what you need for yourself, but you may not know what you need for your cat. So, let's go over what you will need for your cat for the hotel room and your cat for the show hall.
For the hotel room you should plan on packing:
Cat litter
Litter box and scoop
Cat food
Bowls for cat food and water
Trash bags (for used litter and other waste)
Dust pan and broom
Air freshener
It is very important that you keep your hotel room as though there was never a cat in the room. Hotels have been very kind to let us stay with our cats, and some hotels no longer allow us to do so because exhibitors have been careless and have left their rooms a mess. Make sure you keep litter boxes scooped and all scattered litter and food swept up and disposed of. If you have a cat that sprays, please confine the cat to an area that you can fully clean, such as a bathroom or a cage.
When you check out, make sure that you have securely bagged your litter. Also, a little air freshener also goes a long way to help!
For the show hall you will need:
Cage curtains (*)
Small litter box (one that will fit in a 22"x22" space)
Cat food
Bowls for cat food and water
Grooming tools
(*) - You will need to cover the bottom, three sides, and top of your cage. You can do this with towels, sheets, or any other sort of solid material. You will also need something to clip your curtains to the cage. You can use small binder clips (available from any office supply store), clothes pins, or safety pins. If you are only getting a single cage, you should also bring twist ties to secure the center divider of the double cage.
Most clubs supply cat litter for the show. Double check the show flyer to make sure. Carrying a small bag with you just in case is always a good idea.
Grooming supplies will vary depending on the cat you are showing. At a minimum you should carry Q-Tips (to clean ears), paper towels (also good to clean up messes), and a brush or comb to groom your cat's coat. As you show more and have a chance to meet other exhibitors you will learn other tips and techniques for grooming your cat.
You will also need to make sure you have a carrier for your cat. You won't need it during the show, but you will need the carrier to transport your cat in your car and to/from the show hall. Your cat will also need a secure place to wait while you set up her cage.
A few days before the show you should give your cat a bath. The bath should include cleaning the cats ears of any wax or dirt and triming the cat's nails. Make sure you trim your cat's front and back nails. What shampoo you use depends on your cat. You may want to consult with your vet or your cat's breeder for recommendations on bathing products.
Note: Any cat with signs of fleas, ear mites, fungus, or poor health may be asked to leave the show hall.
What do I do during the show?
Arrive at the show hall early. Each club lists a check in time and show hours on their flyer. Make sure you arrive early enough to get set up and still have a few minutes to relax before the start of the show. That way both you and your cat will be ready to go when the show starts.
Once your at the show you will be engaged in a number of activities:
Checking in
Verifying your entry in the catalog
Setting up your benching cage
Grooming your cat
Going to judging
Going to finals
Tearing down
When you first arrive at the show hall, look for a person sitting at a table with catalogs. This person will be doing check in. Usually all you will need to do is pick up your catalog and go to set up your cage. If you owe money, you will need to pay at check in.
After you check in, find out where your cage is located. Some clubs will mark a row letter on your catalog, or they may have a large benching chart with everyone's names listed. Most clubs will then write names on plastic lining the bottom of the cages.
Once you find your cage, take a quick moment to verify your entries in the catalog. If there are any errors in your cat's breed, color, sex, or age, go back to the check in table and notify the person doing check in. They will make sure that your change is announced. If there are other errors, such as a name spelled wrong, wrong title, wrong region, etc., you will need to make the change with the master clerk.
Also check your cat's number in the catalog. This is the number that will be called from the rings when your cat is ready to be judged.
Next, make sure you check the judging schedule. This will give you an idea of when your cat will be called to the rings for judging. The judging schedule may be printed in the catalog or may be a separate sheet of paper given to you at check in.
Note: Even though there is a published judging schedule, the schedule may be changed during the course of the day. If cats in a class are currently in another ring, a ring may change its judging schedule. Normally a ring will announce that they are making a judging change, but then again they may not. Throughout the day you will need to pay attention to the ring calls or you may miss you cat's number being called to the ring. Rings will give second, and sometimes third, calls for individual cats to come to the judging ring, but some shows may not do more than two calls. So pay attention or you may be marked absent from a ring!
Once you are sure your catalog entry is correct, or you know what corrections need to be made, go ahead and set up your cage and let your cat settle into her home for the day. Take the time before the show to make sure her ears are still clean and that you didn't miss clipping any claws. Comb or brush her and let her know that today is her special day!
Now you wait for the start of the show. When the show is ready to start, someone, usually from the show committee, will introduce the judges and announce any absentees and transfers. After that the clerks will begin calling cats to the rings.
When your number is called, quickly check your cat's grooming and then take her to the ring. Place her in the cage with her number and make sure the cage door is latched. You can then watch and wait as the judge judges your cat.
Your cat is ready to be taken back from the ring when the clerk turns the card down on top of the cage or turns the block so that the number card no longer faces front. Make sure you take your cat back as soon as you can so the cage can be used for another cat and the ring can keep moving.
Now you wait ... When the ring is ready to announce finals the clerk will announce that final numbers are posted in the ring and you need to check the numbers. The number of the individual finalists are not announced, so you will need to check the ring. The numbers of the cats selected for the finals will be on the cages. The clerk will announce the type of finals, for example: longhair household pets.
If your cat is one of the finalists, take her to the ring and put her in the cage with her number. Then sit back and enjoy as the judge presents your cat as one of the very best cats he has judged!
After all the finals rosettes are presented, you can take your cat back from the ring. It is considered polite to thank the judge for the final when you pick up your cat.
Note: Judging takes precidence over finals. So, if you cat is in a ring being judged when finals are called, she needs to stay there. Go to the clerk of the ring doing the finals and let him know that your cat is in another ring being judged. As soon as she is released from the judging ring, you may bring her to the ring doing the finals.
Remember when you checked your catalog at the start of the day? Remember when we said if you had changes other than breed, color, sex, or age that you need to see the master clerk? Well, by early afternoon the first day of the show you should see the master clerk if you need to make any changes. These changes include your cat's name, region, title, registration number, sire, dam, breeder, and owner.
The master clerk is responsible for all the records in the show. He or she compiles a single catalog, called the master catalog, that will be used by the TICA Executive Office to score the show. The information contained in this catalog must be correct if your cat's results are to be scored.
The master clerk can usually be found at a table in a quiet corner of the show hall. If you can't find the master clerk, ask one of the members of the show committee and they will be able to tell you.
Many master clerks will have catalog correction forms on their table that you can use to request changes to the catalog. Fill these out with any changes you need to make on your entry and leave the form where the master clerk indicates. Other master clerks may have other ways to request changes, just check with the master clerk if it's not obvious how to request changes.
After judging is done at the end of the day, it's time to go home. If the show is continuing tomorrow you can leave your cage curtains up and your litter box, bowls, etc. in the cage. However, you may not leave your cat in the show hall overnight.
At the end of the last day of the show it's time to totally pack up and go home. Make sure you clean up your benching area. Take all trash and place it in a waste can. Some clubs have specific areas they want dirty cat litter placed, please make sure you follow the club's instructions. It's always a good idea to bring extra trash bags to put your dirty litter in before placing it in the trash can.
Now that the show is over, what's next?
Did you enjoy yourself? We hope so!
After show there is a lot you can do. You can enjoy the memories of the friends you have met, you can apply for titles that you cat may have earned, you may even plan on attending a future show! Who know, if you enjoy showing and go to more shows you may even have a regional or international award at the end of the show season!
Note: The TICA show season runs from May 1 - April 30 each year. All shows during this period of time are scored for TICA regional and international awards. The 20 cats in each class who have received the most points during the show season are recognized at regional and international events. Information on awards scoring can be found in the TICA By-laws which are available at http://www.tica.org/pdf/pubs/bylaw.pdf. If your cat is to receive a regional or international award you will receive notification of the award in the mail.
Remember the catalog you received at the show? If you look through the catalog you should find a recognition of wins form that will allow you to apply for your cat's titles. With the form are instructions on how to fill it out. If your cat has achieve a title at the show - congratulations!!!
If you haven't registered your cat, and want to continue showing, take a few moments to register your cat. If you are showing a household pet, the show catalog should also have a form to register your cat. If you are showing a pedigree cat, you will need to obtain a registration slip from your breeder. If your breeder does not register in TICA, you can register your cat in the association your breeder registers in and then send that association's registration along with a 3-generation pedigree to TICA with the appropriate fees.
Want to come to another show? Check out the show listings at http://www.flash.net/~debreed/calendar.htm and enter your next show.
Good luck, and we'll see you at an upcoming show!
==================================
Do you have any questions on this document or suggestions for improvement? Please email us and let us know!